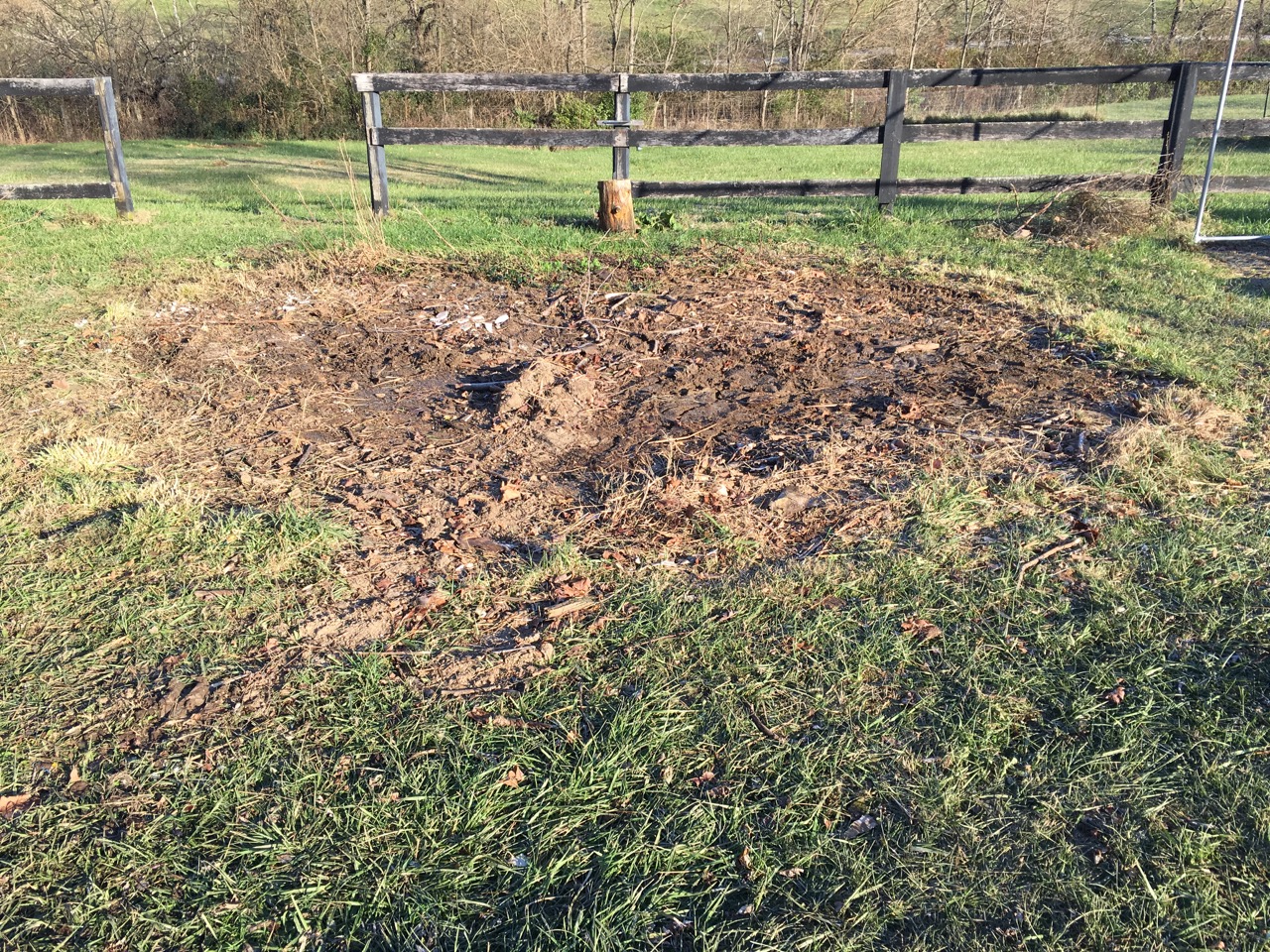 Yesterday, we took on a project that was as unpleasant as it was labor-intensive: dismantling and carting away a junk pile on our property. You may be thinking "Junk pile? I just can't see you guys collecting crap and just letting it sit there" – and you'd generally be right, except for this eyesore junk pile. Read on…
It all began when we moved into our current home. It had these built-in shelves in the outbuilding that we use as a garage that were horribly dusty and blocked off parts of the garage so that it wasn't fully accessible. Those shelves were knocked down and the heavy wood had to go somewhere, so they went "temporarily" in a stack near the outbuilding. The former owners had also erected an above-ground pool that was scummy and pretty nasty by the time we took possession of the property; that, too, had to go. It was dismantled and the pool liner and its 57 metal parts, the pump, etc., all went atop the wooden shelves stack. So it began.
After several years, the pile grew to about 10′ in diameter and contained an assortment of goodies, like the disgusting pool liner and the tarp that it had been sitting on; an orphan toilet tank that was left by the former owners; many fence boards that came from either the three-board fencing or the privacy fence; other clunky, funky built-in shelves; super heavy pieces of barn doors from the old barn; a nasty plastic chair that went with the above-ground pool and various pool accessories; a brooder floor made of plywood that had been soaked by a crummy poultry waterer spilling in the brooder (more than once!); the old outbuilding exterior door that didn't even close securely (replaced by a properly installed door); a propane tank that had apparently been used for target practice…and more. That pile grew and grew.
We grew, too – we grew tired of looking at a pile of junk that needled us each time we walked by it. We don't like clutter, and the pile was the epitome of clutter. It needed to go. We called around to see if junk haulers would take it away, but were either told that we weren't in their service area or that it would cost an exorbitant amount for them to remove it. So we rented a pickup truck and prepared to do it ourselves. How bad a job could it be?
Yesterday was removal day. We knew we were on a tight timeline: the truck was picked up at 9 a.m., but the county disposal center was only open until 3:30 p.m. and it was a 20-minute drive there. We had originally estimated that it would take two trips to remove the pile in its entirety and we were so wrong. It actually took twice that number of trips. And a lot longer than we had predicted to complete.
We started at about 10 a.m. – after breakfast – and as soon as we started digging into the pile, the realization that it was a much larger job than we'd thought sunk in. The pile was loaded with heavy pieces of wood and other building materials that had gotten wet (and gross), and dirt had accumulated on top of much of it during its time in the elements. We gamely loaded up the truck, covered the load with a heavy tarp, strapped it down securely, and headed off to the dump. The first load, according to the dump scales, was 770 pounds; subsequent loads were even heavier at nearly 900 pounds and 1,000 pounds. Once at the dump, we had to pull up parallel to the dumpsters and heave the items out of the truck bed into the dumpsters. We loaded, secured, hauled, and unloaded without pause until the last load, when we did a time check.
When the last load was nearly complete, we realized that we were getting very short on time. The dump closed at 3:30 p.m., and it was 3:10 p.m. and we still needed to secure the load, which included the very heavy basketball backboard and hoop mounted on a metal pole and the atrociously nasty pool liner. Let's digress a bit and discuss the charming pool liner: having been removed early on, it was at the very bottom of the pile and was full of mud and bugs. It was strangely inflexible and fought us in every attempt to manipulate it so that we could load it. We finally had to pull the tractor out, load the liner into the bucket, and dump it (carefully) from the bucket into the bed of the truck. The bed, of course, was already loaded, so it sat precariously atop the pile. Additional effort was needed to shove it off the tractor's bucket to the top of the pile in the truck bed; unfortunately, in doing so, some unmentionable muck and ooze squished out of the pool liner onto us. As you can imagine, swearing ensued.
Back to the time: after the struggle with the pool liner, we were out of time; even worse, a recheck of the local dump's hours showed that they had closed at 3 p.m., not 3:30 p.m. More swearing ensued. Since we needed to return the rental truck by 5 p.m., we started looking for other disposal locations nearby that would accept the load. We found a private disposal/excavation business about 20 mins away that agreed to take the load. We secured the load and drove to the disposal site. Since it was a private business, we paid a little more than twice the cost to dump the load there than we would have at the county facility, but we didn't have a lot of options due to the time constraints. In this location, we had to drive up to a tall dumpster and chuck the load out of the truck's bed – no small feat, given the weight of some of the items (like the full-height basketball backboard and hoop mounted on a metal pole). Nonetheless, we got the job done.
This job really sucked. It was dirty; there were many old, rusty nails; spiders and pill bugs abounded; and the breeze kept blowing dust and dirt right into our faces as we worked. It took nearly the whole day to finish what seemed like a fairly small(ish) pile, and it was a serious workout. In the end, though, we eradicated that pile. The grass still needs to grow back, but in the spring, you won't even be able to tell that a junk pile had been there.
Based on this experience, we'd like to offer this lesson learned: unless you like loading and unloading potentially thousands of pounds (ours came in at about 3500 pounds) of dirty junk, don't let debris piles happen in the first place. Just don't do it. Keep on top of the junk by making small jaunts to your local disposal facility – we will be!