When I think of fall meals, hearty soups and stews come to mind…and I don't think I'm alone. Beet borscht, made with root veggies and cabbage, is a delicious and nourishing soup. This Instant Pot recipe is an adaptation of one that was my favorite slower cooker borscht recipe, made and enjoyed many times; with some tweaks, that flavorful and satisfying soup can be enjoyed in a fraction of the time!
This is one of my favorite recipes, in no small part because it's simple to make: prep the ingredients, put them in the pot, close/seal, cook, and serve. I'm definitely not complaining there!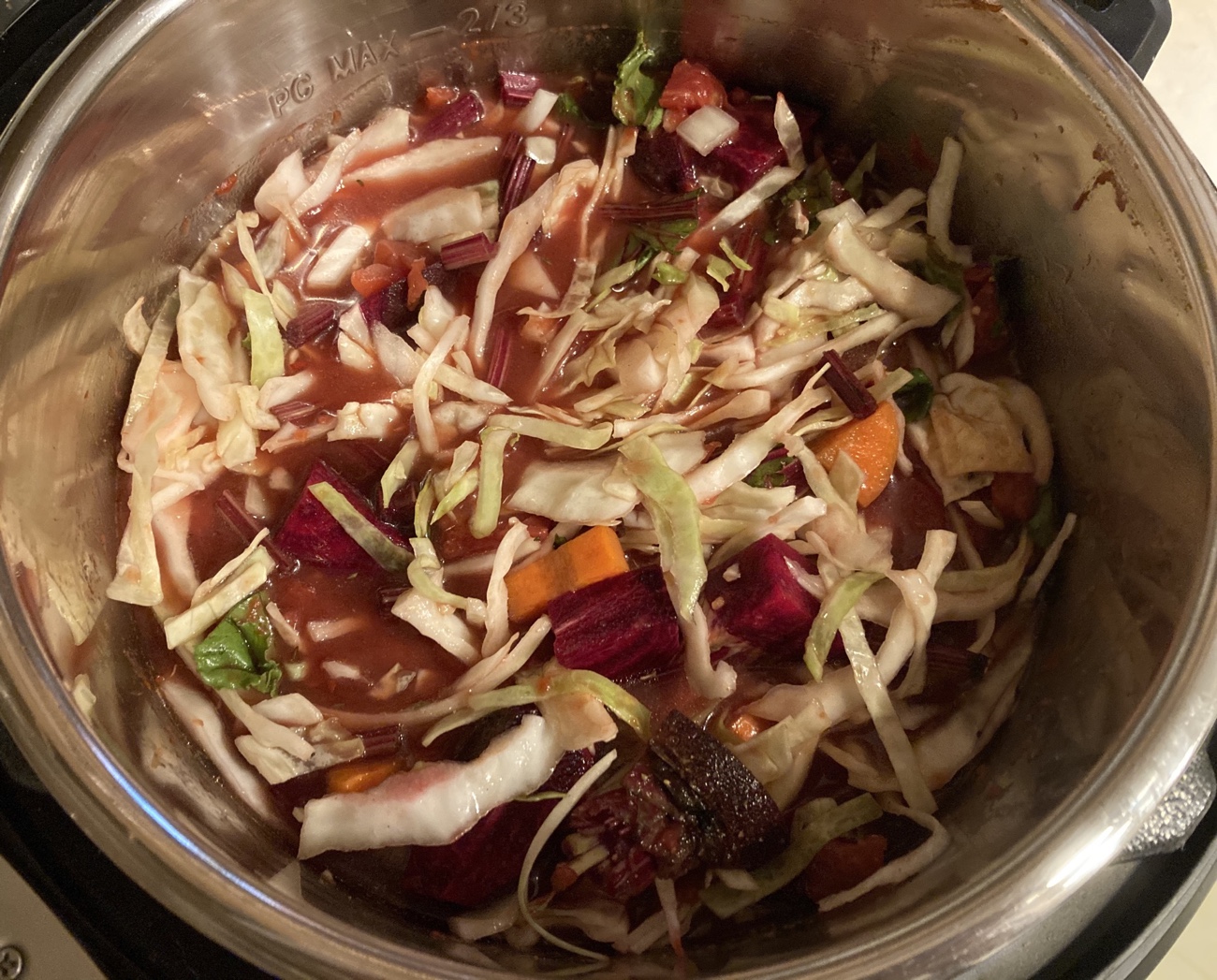 Because I typically use bone broth from our pastured chicken and milk kefir (or kefir cream), my version is typically not a vegetarian soup. By using water or vegetable broth and either skipping the dairy or using a non-dairy cream, however, it easily becomes suitable for vegetarian and vegan diets. Regardless of your broth choice, the veggies in this soup will give it bold flavor.
Instant Pot Beet Borscht

Ingredients
4 cups broth
1-15 oz can diced peeled tomatoes
1-6 oz can tomato paste
1 large onion, chopped
3 large carrots, chopped
1/2 head of a medium-sized green cabbage, shredded
1 tsp minced garlic
3 medium beets, cut into cubes
3⁄4 tsp seasoning salt or sea salt
1 Tbsp raw apple cider vinegar
1⁄4 tsp freshly ground pepper
Optional: sour cream, plain yogurt, or milk kefir (to top the finished dish)

Instructions
Put all ingredients except the dairy (if using) into the inner pot of a 6 quart Instant Pot and stir to combine.

Close the lid and cook on Manual (high) for 35 minutes. Allow pressure to release naturally.

Once pressure has released, serve borscht hot with a generous dollop of sour cream/yogurt/milk kefir (heavy cream can also be used) and a side of crusty bread.

Notes
•Add 2 cubed potatoes (or a similar amount of cauliflower florets for a lower carb option) for an even heartier soup.
•For extra tang, stir in some sauerkraut when serving.

Recipe adapted from The Best Slow Cooker Cookbook Ever
Even if you're not a fan of beets, this soup may yet win you over. Enjoy!