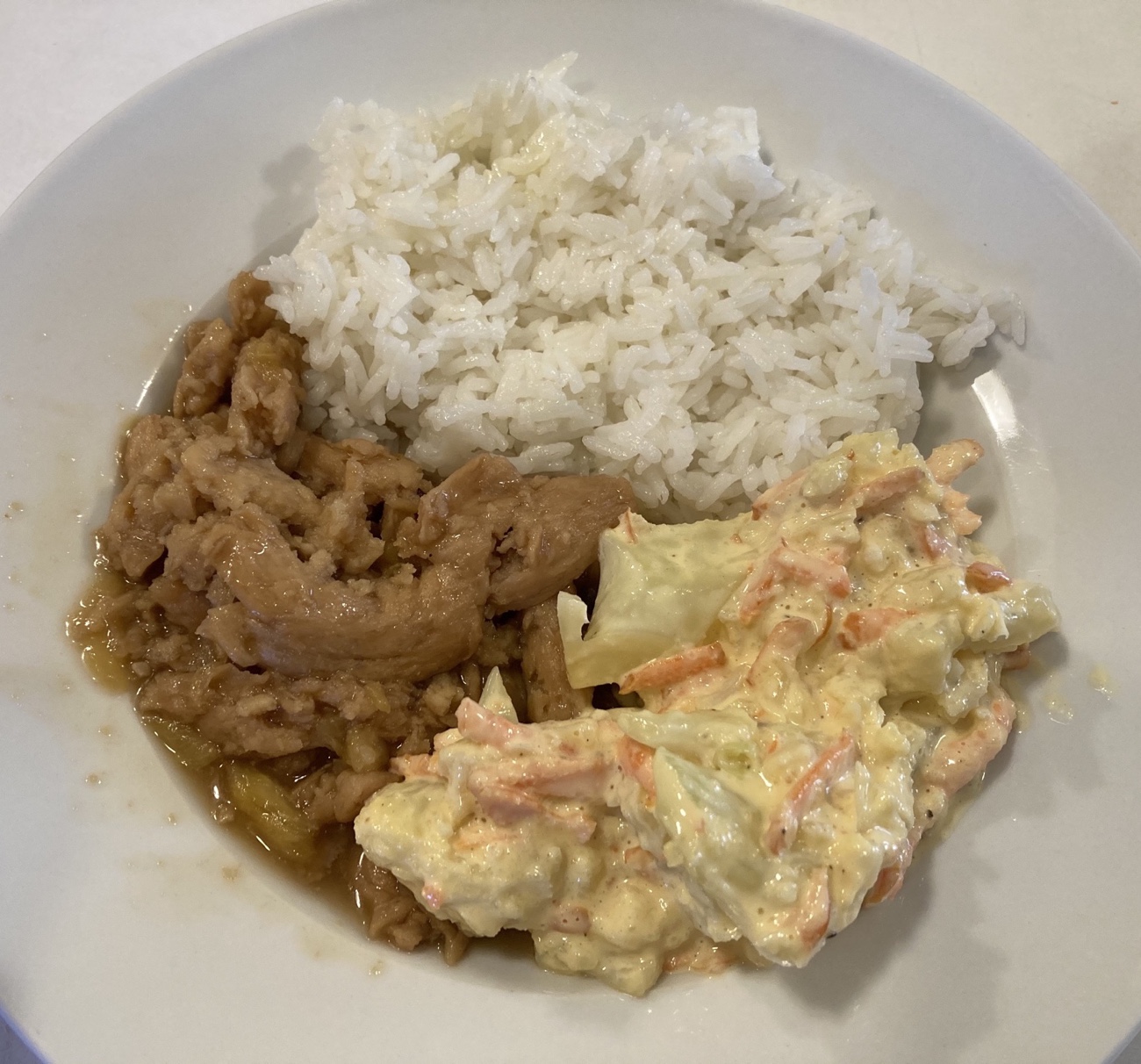 Sometimes, you just want comfort food like a plate lunch. Then you realize that there are no "local food" (Hawaiian) restaurants anywhere nearby and that if you want a meal even slightly resembling a Hawaiian-style plate lunch, you'll have to make it yourself. So I did.
If you've been to Hawai'i and enjoyed the cuisine, you know it's a multicultural mélange of the cuisines of numerous different countries, with contributions from Polynesia, the Philippines, Korea, Japan, China, Portugal, and the United States. Given the sheer variety of delectable dishes, it becomes nearly impossible to stop yourself from eating your way through the area: haupia! Loco Moco! Spam musubi! Halo halo! Lumpia! Tonkatsu! And so many more delights. The downside, though, is that local food isn't what I'd consider healthy food: often high carb, sugary, made with processed ingredients (like Spam, unhealthy on so many levels), heavy on meat, and lacking dietary fiber.
The last time I was in Hawai'i was (sadly) some years ago…and my metabolism and approach to diet are a little different now. While I do still eat rice, I watch portion sizes, avoid processed foods, and limit meat to only non-factory farmed sources (no Spam = no Spam musubi 🙁); basically, I cook my own whole foods and they're mostly vegetarian.
My diet creates an interesting challenge when trying to recreate a plate lunch that includes teriyaki and macaroni salad…fairly high carb items. Are you wondering why teriyaki would be carby? Because of the sugar in the teriyaki sauce, of course. Does it have to be sweet? Yes – teriyaki is meant to have a combination of sweet and savory flavors, and some sauces are sweeter than others. Personally, I prefer a less-sweet, spicier version of teriyaki.
To make the plant-based "chicken" teriyaki, I used soy curls. When rehydrated, the soy curls become "meaty" and readily soak up flavors…perfect for teriyaki! I cobbled together a sauce from Bragg's Liquid Aminos, crushed fresh pineapple, fresh minced ginger and garlic, and chili garlic sauce (to taste). Like a thicker sauce? Whisking in cornstarch will thicken it.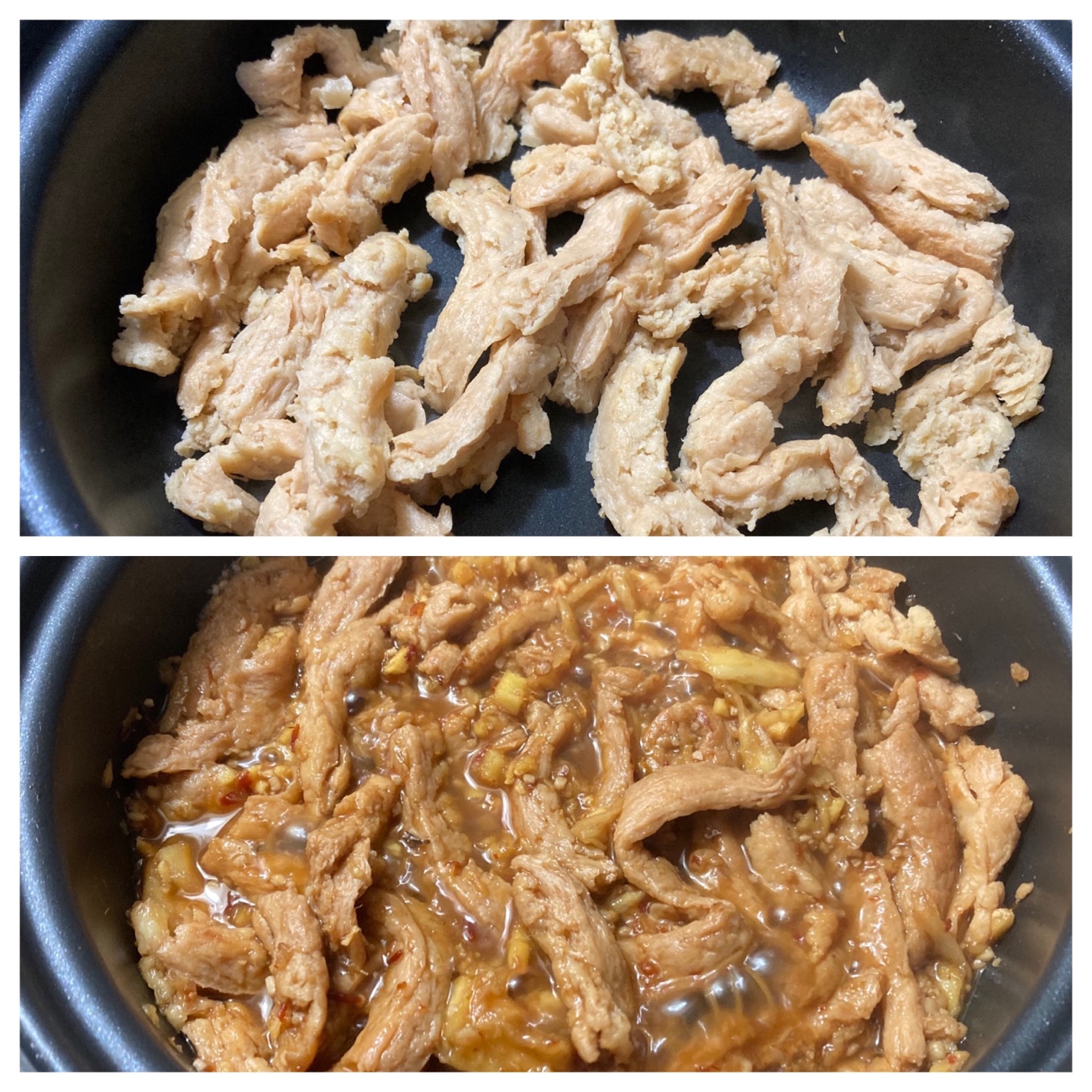 After prepping the soy curls (basically, soaking them in hot water, then squeezing out the water), I put them in a skillet and browned them a bit. I then turned down the heat and added the teriyaki sauce, allowing it to simmer. While it simmered, I turned my attention to preparing the cauliflower "macaroni" salad.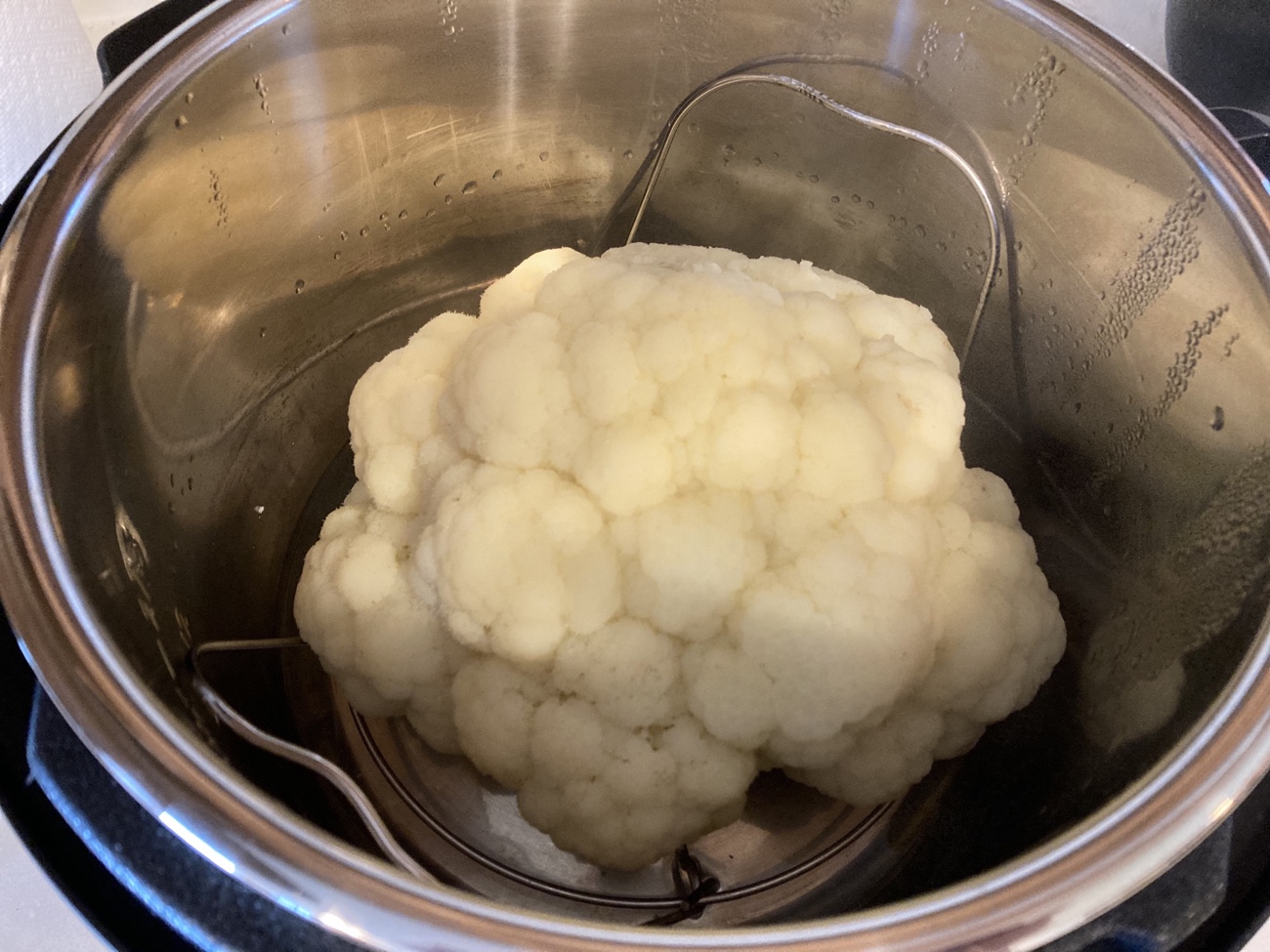 After cooking a whole cauliflower in my Instant Pot, I let it cool in the fridge. Once cool, I chopped it into small florets (sort of macaroni-sized) and added 1 cup of avocado oil mayonnaise (because that's what was handy), 1 Tbsp minced onion, 1 shredded carrot, and salt and pepper to taste. I was surprised at the large amount of salad it made…and we ended up enjoying it over several days.
Atop jasmine rice (also cooked in my Instant Pot), I ladled the cooked teriyaki and a generous scoop of cauli salad. While this vegetarian version of a plate lunch looks a bit different than what you'd find at a mainland "local food" restaurant or on the Hawaiian islands, the flavors are right, the textures are good, and it's entirely enjoyable. Eat it again? Definitely.
So, even if there are no Hawaiian food restaurants near you or you have specific dietary requirements that preclude takeout, you can still enjoy an ono taste of Hawai'i!