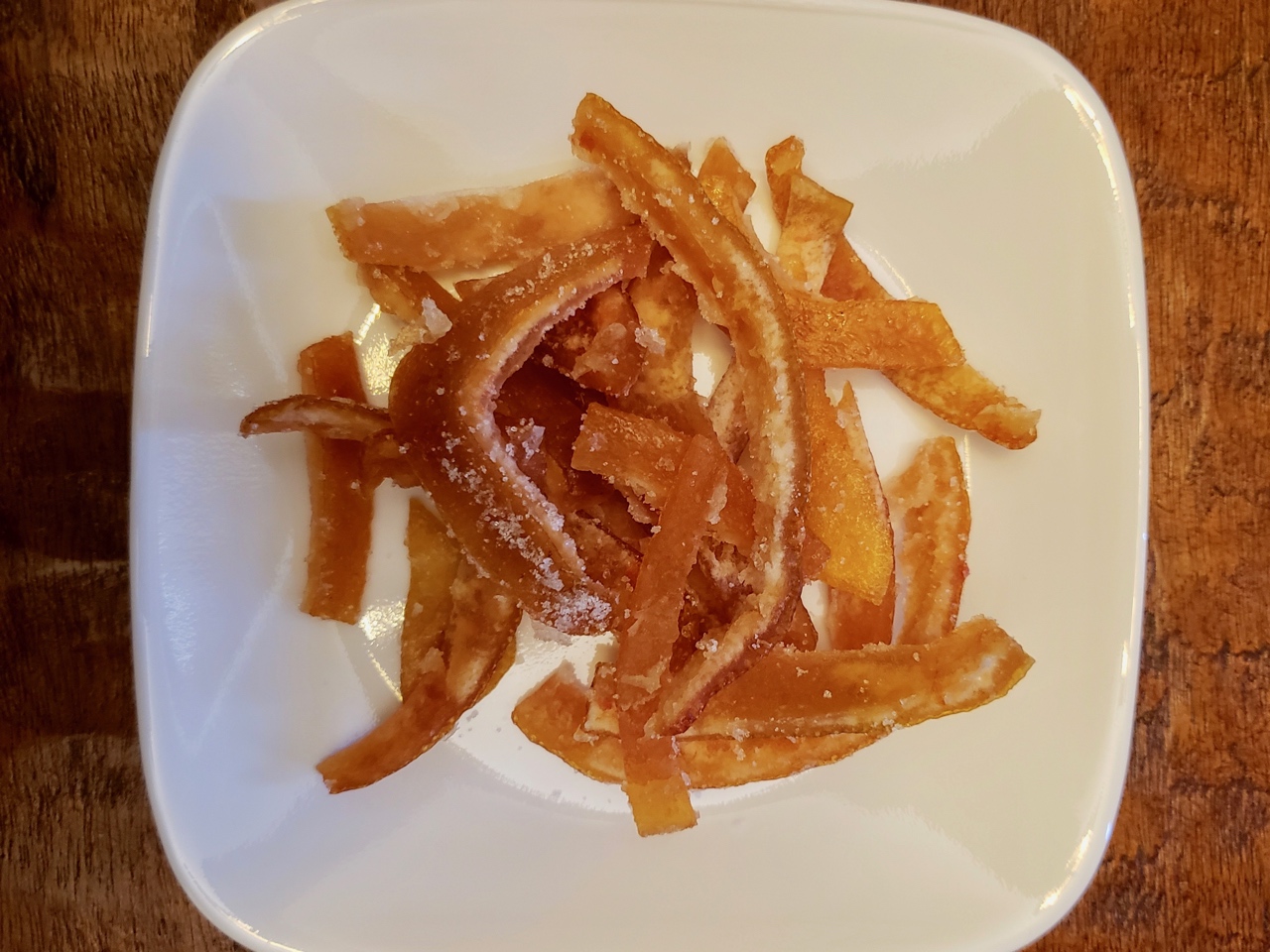 Earlier, I shared how we made several enjoyable products from 6 fresh grapefruit: wine (Wine Chronicles: Now Making Grapefruit), fermented syrup (Ferment This: Grapefruit Rind Syrup, No Food Waste: Grapefruit Rind Syrup Part II), and grapefruit water kefir. The wine's not ready to taste yet, but the syrup and water kefir are great! The final item we made from the grapefruit is candied fermented peel. Interested in how we did it? Read on.
A large container of peels remained after straining off the fermented syrup. After fermenting in sugar water, they appeared somewhat translucent, and were already softened – similar to how they would look if cooked in syrup for a "standard" candied citrus peel recipe. With a sharp knife, it was easy to carefully remove most of the bitter pith. The prepped peels then went into the fridge until I could get back to them and finish this project.
Yesterday was completion day. I rolled the soft peels in sugar and placed them in a single layer on a lightly-oiled baking sheet (parchment paper would work, too). The peels then dried in a 200°F oven for two hours; at the 2 hour mark, I turned off the heat and left them in there for another hour or so for additional drying. Using a silicone spatula, the rinds were easily scraped off the baking sheet into a container for refrigeration.
I must confess that I tried the peels at various points along their journey: immediately after straining, after coating in sugar, and after they'd been dried. Each version was tasty, though the just-strained version's bitterness and pungency was most striking due to the extra pith – and, really, I could only eat a couple. The sugar-rolled version was definitely enjoyable, and the dried version is simply addicting: sweet but packing a citrus punch with a pleasant bitter note. The finished versions would be delectable partly dipped in melted chocolate, creating a bittersweet/citrus/chocolate trifecta of deliciousness. It just so happens that I have some semisweet chocolate that could easily be melted in a double boiler, too..!
This was our first crack at making candied citrus peels, and based on this experience, citrus rinds will no longer be composted in our household; with a little effort, peels become incredibly tasty and culinarily useful. Perhaps best of all, it's not a difficult process to convert what may otherwise have been a "waste" product into a delightful treat.