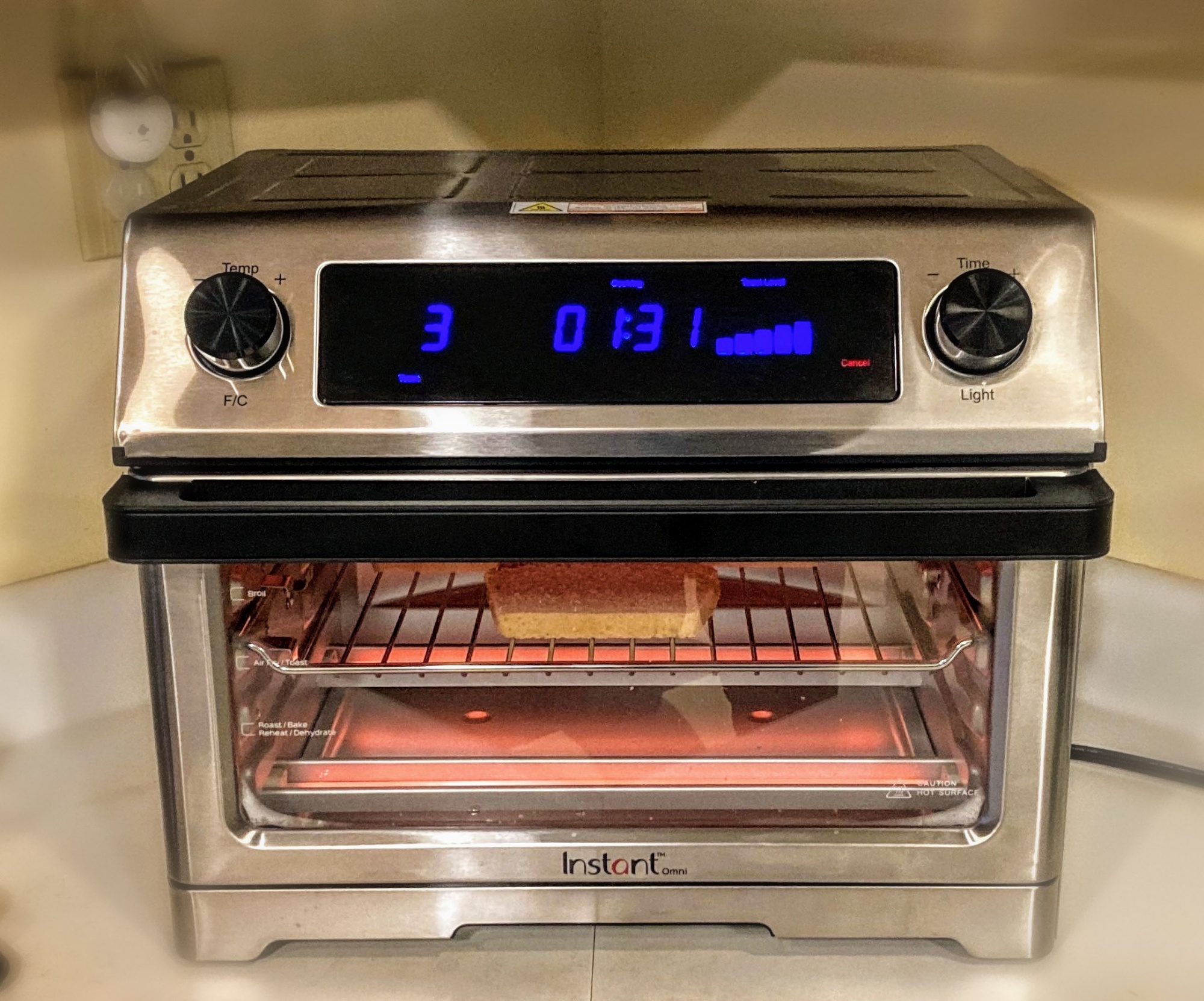 If you've read my food posts, you know I'm an Instant "Pothead". But I don't just buy small appliances based on branding – I look for excellent performance and good value, too. When it comes to air fryer ovens, options abound…but if you're looking for a great air fryer oven that also toasts well, read on.
After trading in the huge (but capable) Oster Digital French Door Oven for a smaller Dash Chef Series Air Fryer Oven, I was initially happy. We have a number of other fun Dash appliances, like miniature waffle makers (for chaffles, of course), two different sizes of skillets, a kettle, a griddle, and an egg cooker. Yes, the cute Dash appliances are hard to resist!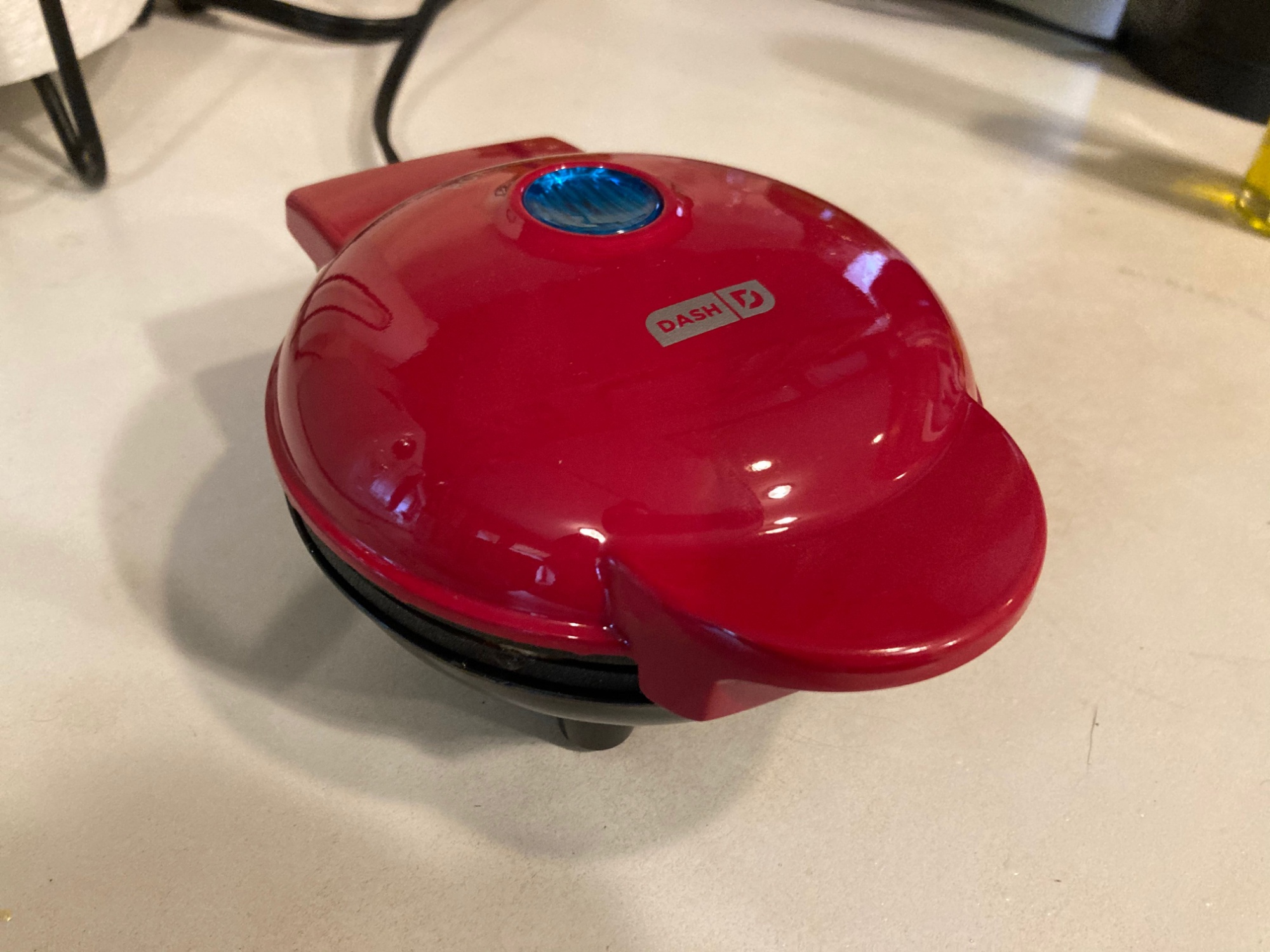 The 23L Dash oven looked good in clean stainless steel, had a smaller footprint, and boasted a rotisserie function. It also had a standard drop-down door, so it wouldn't close on your arm accidentally like the Oster door could (hot!!). Unfortunately, it began to smell like melted plastic when toasting bread, and further exploration revealed a red hot piece of metal crimped on a wire that was part of the timer – the fumes were from melting wire insulation (!!). The Dash went out the door.
Feeling burned by the Dash (pun intended), I began researching similarly-sized air fryer ovens, focusing on value and performance. The Instant Omni air fryer oven met both requirements, so I picked one up (at my own expense). Out of the box, it was a bit larger than the Dash, but not significantly so. I liked that the door had indicators for where the trays should go for specific functions (like air frying). The display is very easy to read and the controls are simple to use. A nice touch, too, is that when the door is opened, the light comes on and stays on for one minute while your food is cooking, then shuts off; it also comes back on 30 seconds before the cook cycle completes.
As was mentioned in other reviews of the appliance I'd read before buying it, no recipe book is included, unlike with the Instant Pots. This makes it challenging – at least at first – to begin cooking in it. There are plenty of online recipes for air fryer dishes, though, so the lack of recipe book is what I'd consider a minor (albeit odd) drawback.
After having used it for a couple of months now, I find it lives up to the quality I expected from Instant brands: well-designed, like the fan that activates at the close of a cooking cycle to cool the unit down; aesthetically appealing in clean stainless steel; roomy (26L); and high performance, cooking items like sweet potato fries, burgers, tofu filets, crispy chick peas, and toast just right.
Instant makes two models of this oven, the Omni and the Omni Plus. Aside from some display design divergences, the primary difference between the two models is that the Omni Plus has two "smart functions" that the Omni doesn't: Proof and Slow Cook. Since neither of these functions was important to me (and I could do both in my Instant Pots, if desired), I opted to save about $50 and go with the Omni. Note: I did keep an eye out for deals on the appliance prior to buying, but found none; nonetheless, it was competitively priced with other air fryer ovens.
As I'd expect with any new air fryer oven, some adjustments to time and temperature were needed to get the food cooked to my preferences, but once the "familiarization" process had occurred, it was smooth sailing. I haven't tried the dehydrate or rotisserie functions yet, but have confidence they'll also perform as expected.
The Instant Omni air fryer oven is a winner, and I only wish I'd bought it sooner. As for recipes, Instant Pot has a searchable (by meal type, cuisine, and diet) repository on its website, and I find that after the initial "learn to use the appliance" period is over, appliance recipe books really just gather dust. I anticipate enjoying many good meals and lots of homemade sourdough toast with the help of the Instant Omni!