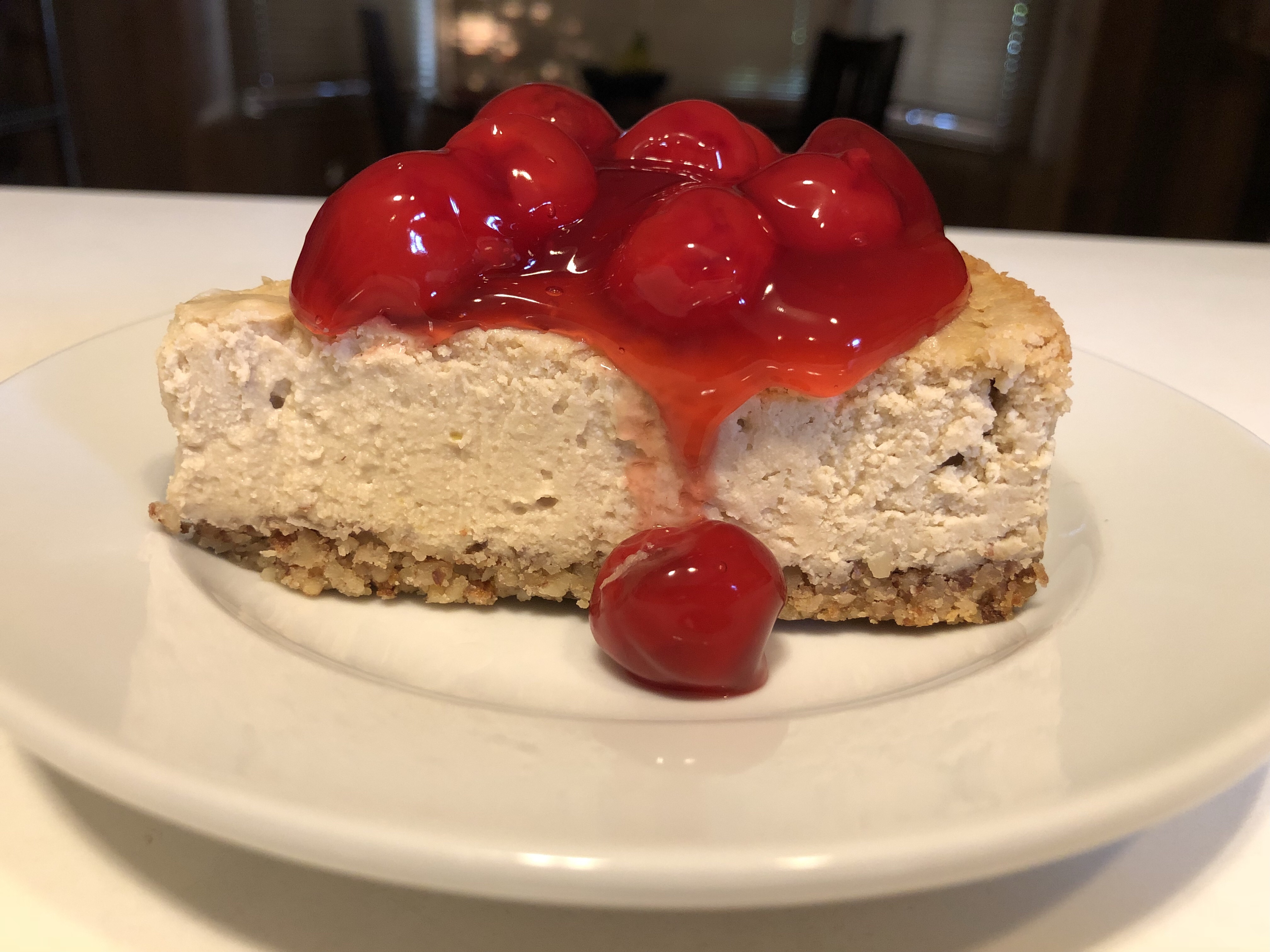 While the duck egg cheesecake was delightful, it's now just a lovely memory. Sticking with the cheesecake theme, I decided to make a vegan one next – it's full of healthy ingredients and is a snap to make. And it will not only work as dessert, it could work as breakfast, too!
I first discovered this Vegan New York Cheesecake recipe when I was trying to figure out what to do with the cans of chick peas that were sitting in the pantry. I had already made mock tuna salad with them, as well as eating them warmed up and sprinkled with a bit of salt; both were good, but I was looking for something a little more exciting. This recipe resonated with me because I didn't need to go to the store to purchase any ingredients – I either had them already or could improvise a suitable substitute.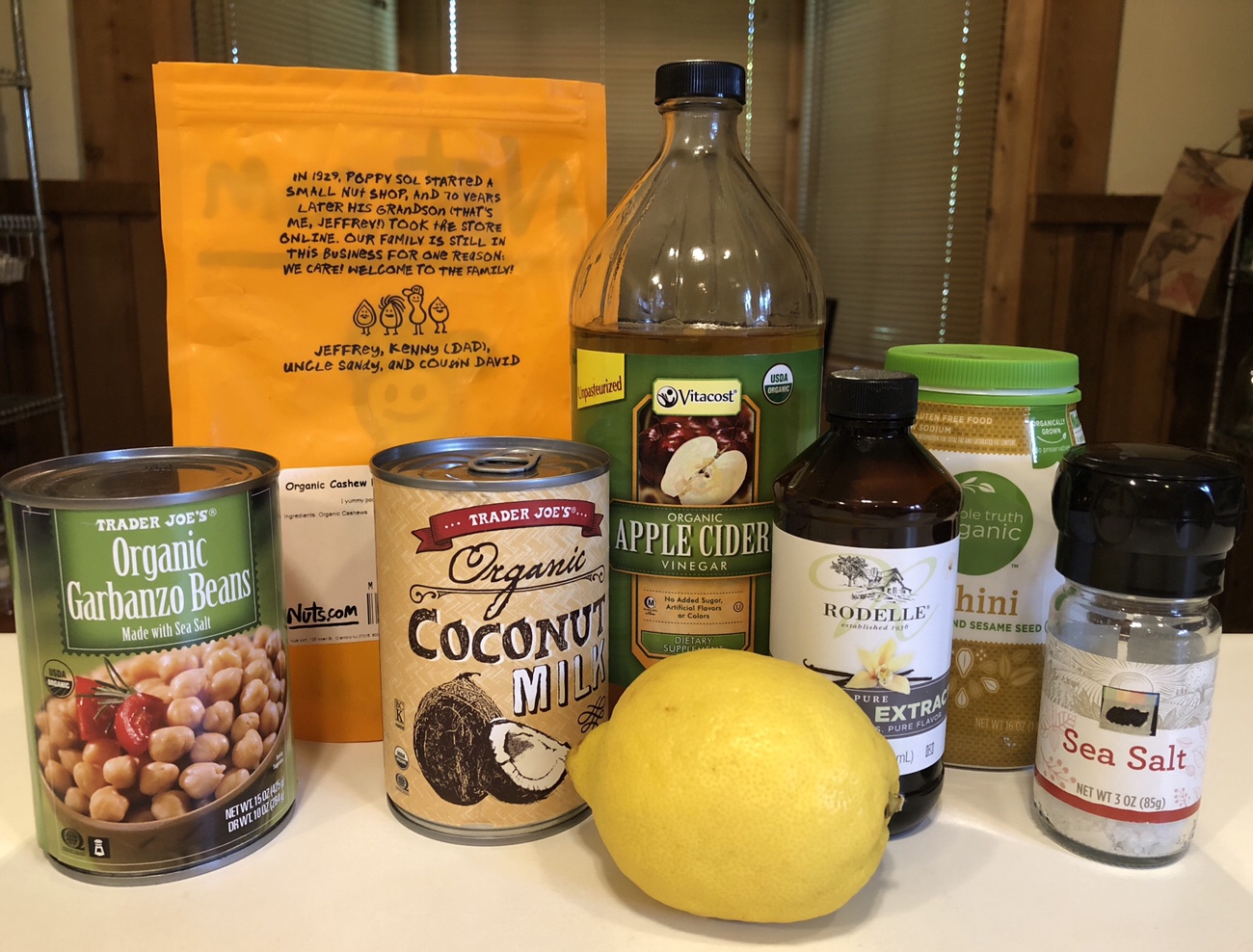 The first iteration was tasty, but I completely changed the flavor profile by mistake: I had inadvertently omitted the lemon juice and zest and when I tasted the filling, it was very bland. I decided to add a little almond extract to give it some flavor, and it ultimately turned out to be a very nice almond cheesecake…but not the cheesecake I'd expected. I made sure to include all the ingredients this time!
My vegan cheesecake has a non-vegan crust because I used the same almond meal crust recipe as I did for the duck egg cheesecake. I think subbing coconut oil for the butter would work, though, and I'm going to try it instead, next time. I was also a little short on almonds, so I added a few walnuts. It baked nicely and smelled great with the addition of a little ground cardamom.
What's better than a recipe that tells you to just throw everything into a blender and blend until smooth…like this one does? (I did try using the food processor first, and the liquid came out everywhere – don't do that, just use a blender, like the Vitamix I used, and save yourself the cleanup). Once blended, I poured it over the cooled crust and gently shook it to smooth it out. It bakes for 60-70 minutes, then goes into the fridge to chill. I used a slightly smaller springform pan so that the cheesecake would be taller, so it baked a little longer than if I'd used a larger pan.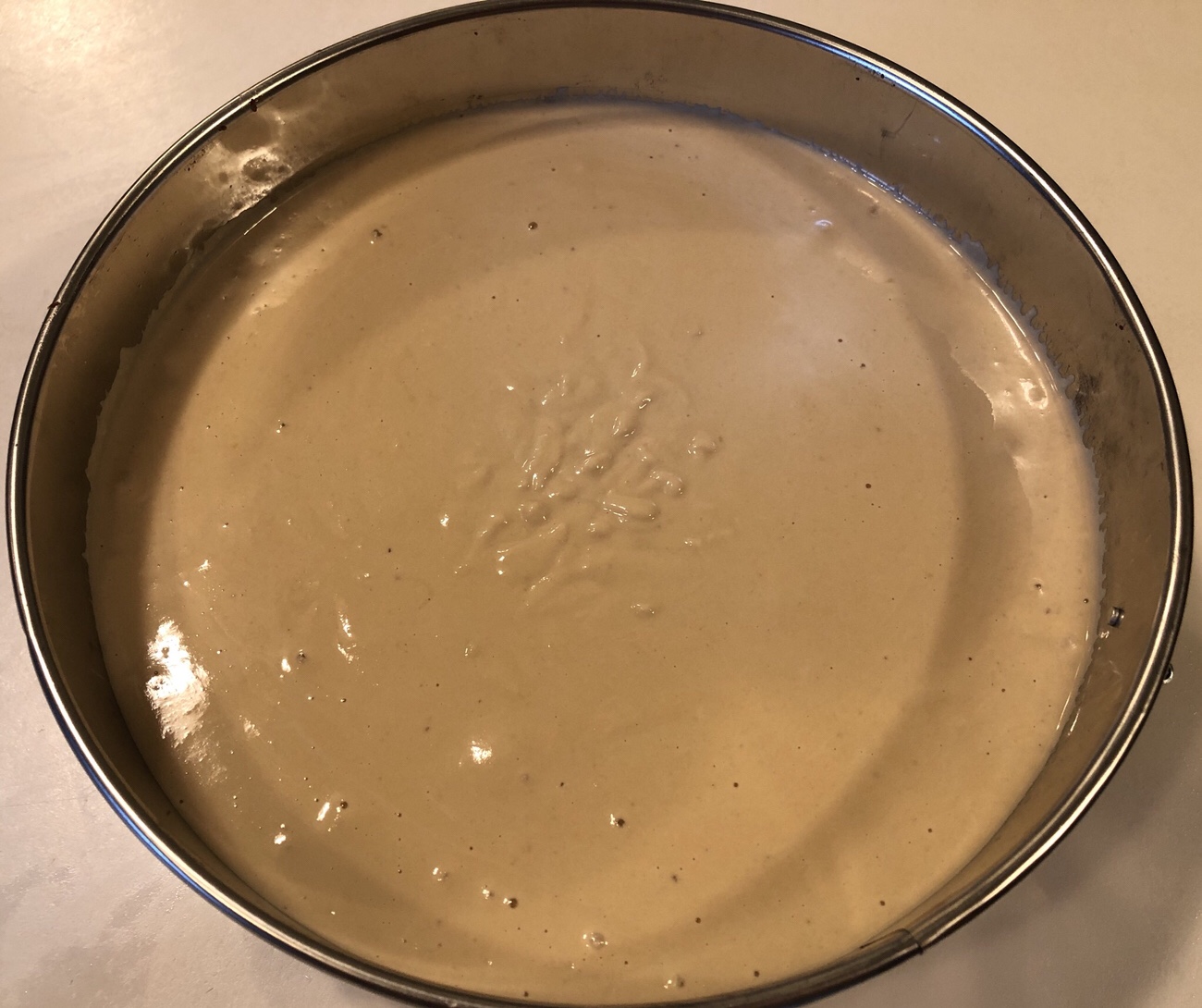 If you've read our profile, you know we're not vegans, but this is a recipe that anyone – vegan, vegetarian, flexitarian – will enjoy. It will help use up those cans of chickpeas…and you can make aquafaba with the juice you drain off. No waste!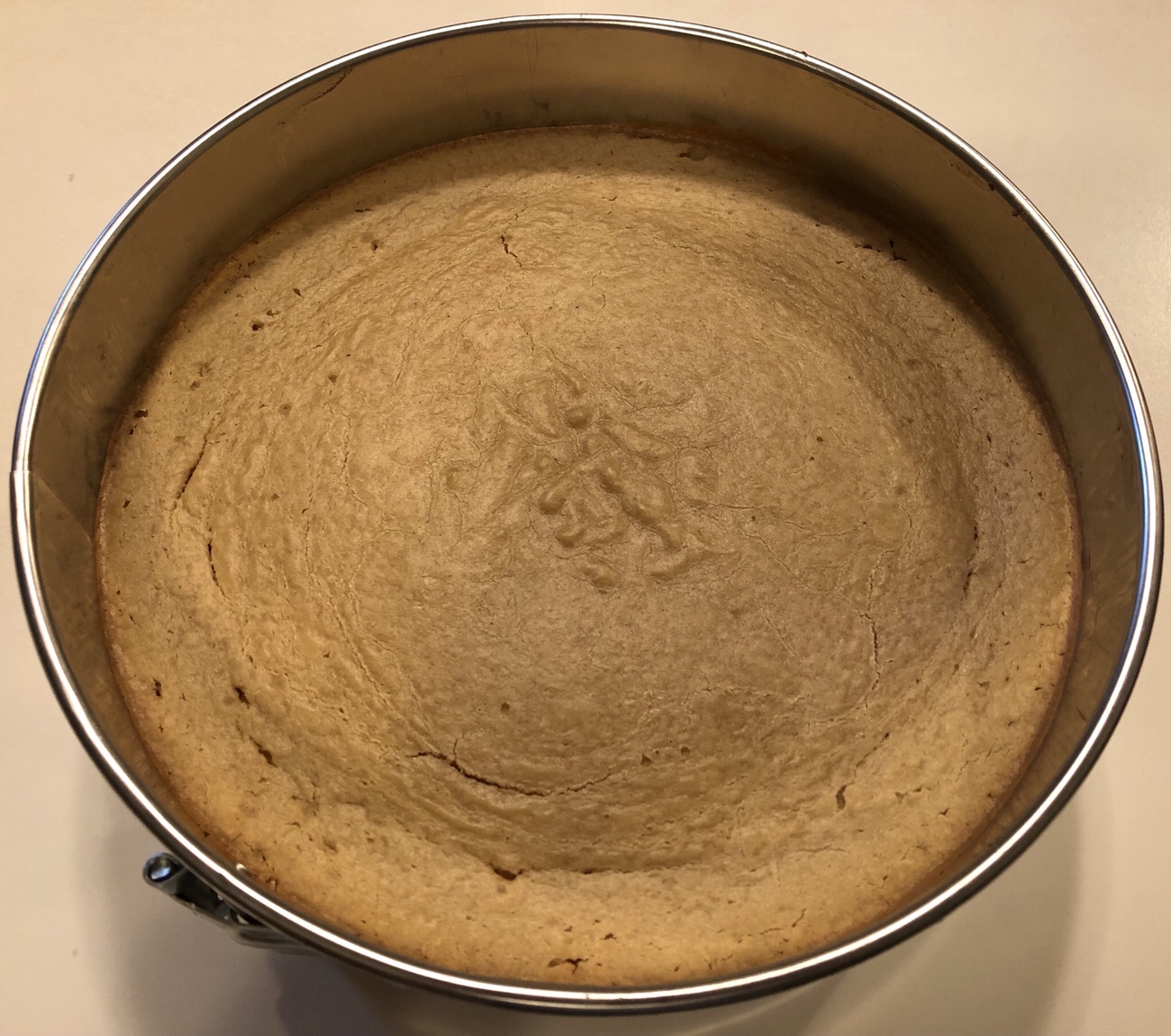 I waited the bare minimum of four hours for the cheesecake to chill, and when I cut it, it was still a bit soft at the very center. Cutting it the next morning, it was solid throughout and more cheesecake-like in density. Lesson here: be patient.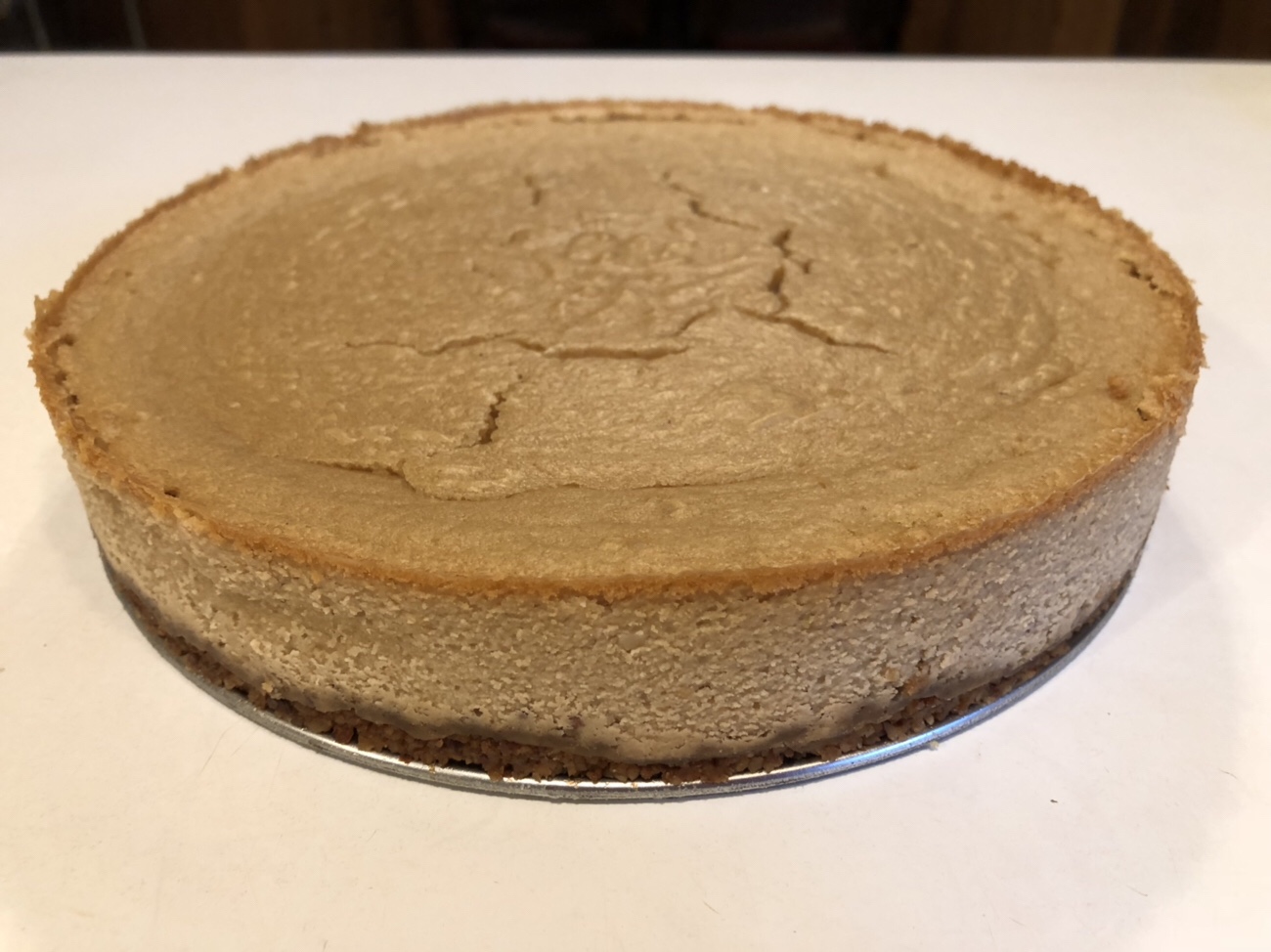 This is a rich, filling cheesecake, similar to the one made with dairy and egg. I think I would omit the tahini the next time around and sub some sesame oil for a lighter flavor – I did this with the "almond" cheesecake I made previously, mainly because I didn't have any tahini on hand.
I try to make a recipe as it's written the first time (obviously, it didn't work out that way with this one) so that I have a baseline for experimentation – I want to know what it should taste like before I get creative. After that, all bets are off!