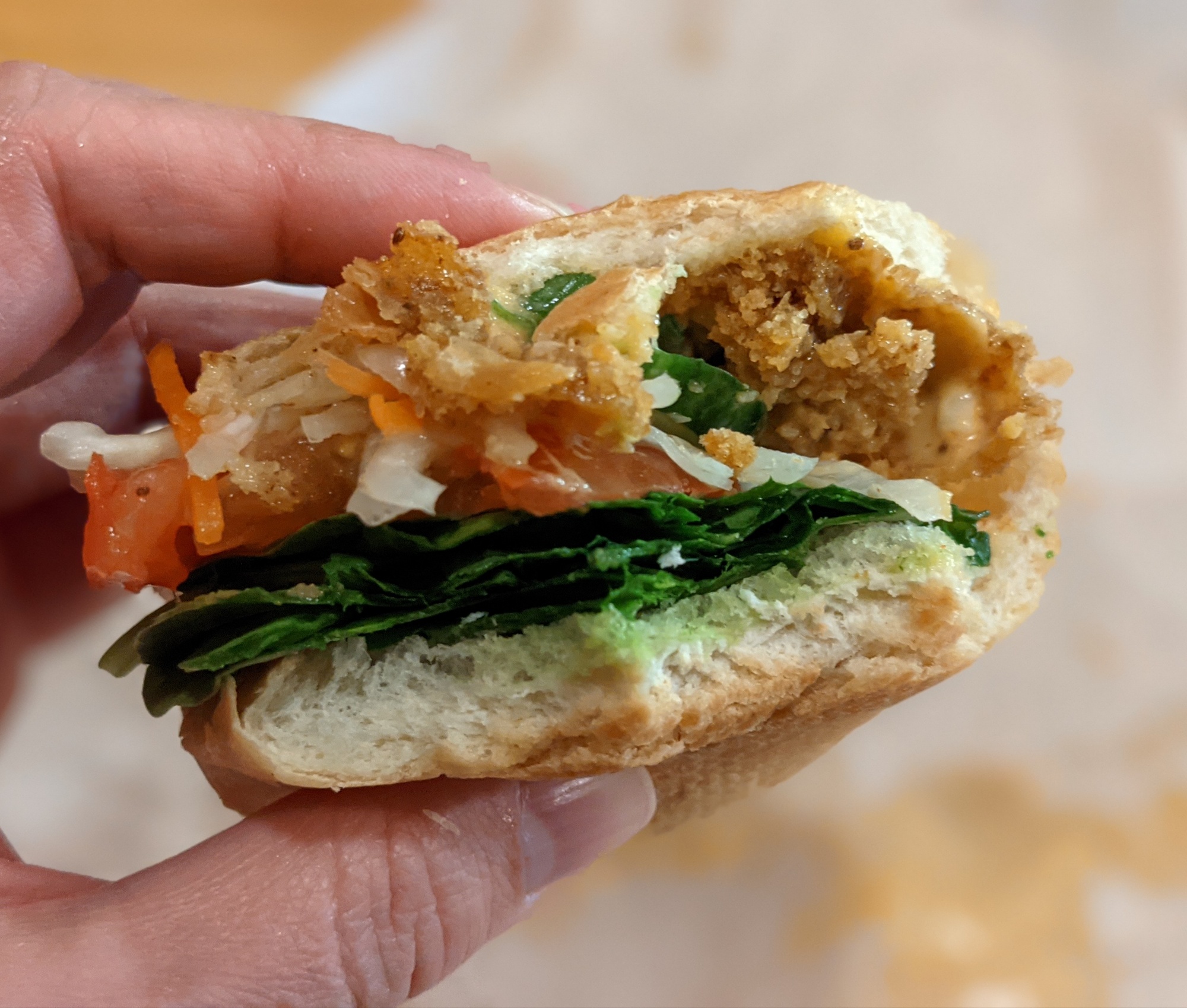 If you've visited our blog for a while, you probably know that we cook most of our food. Eating out is a rarity, typically limited to special occasions. Every once in a while, though, we find a place where we don't have to worry about how the meat was sourced (because there is no meat), and where creativity and skill come together in food that is a treat for the tastebuds and the eyes…like Half-Peach Bakery & Café.
We first discovered this great vegan restaurant a few years ago. Because of our belief that food animals shouldn't be subjected to the misery of factory farms (including Concentrated Animal Feeding Operations – CAFOs), our local dining options are limited.
So, the first time we discovered this gem, we went a little bonkers with excitement and tried a number of entrees and desserts. All were fantastic, and we were ecstatic to have this local business within driving distance. We had a "go to" restaurant for when we wanted to eat something we hadn't cooked, ourselves. Then, the roof collapsed on the building it and several other businesses were located in, displacing them.
Though Half-Peach must have been significantly – and unexpectedly – impacted during the time that they were displaced, they were creative and leveraged relationships with other local businesses to stock their products, in addition to offering some special meal pick up options at a local natural foods store.
During this time, too, the pandemic happened, furthering complicating matters – yet they persevered. We hoped that they would open their café again, watching and waiting.
The, to our delight, Half-Peach did open for business in a new storefront – in close proximity to their old location, but in a building that (hopefully 🤞) has a sound roof. After ordering our food online, we went to pick up and found a much smaller cafe, without dine-in seating, but no lack of friendliness and enthusiasm. A big refrigerated case up front contained an assortment of mouthwatering entrees and desserts. When our food was ready, the owner came out with it and chatted with us. She shared that they were planning to expand into the space next door, which would enable them to have dine-in seating. It's always such a pleasure to meet a business owner with such obvious passion for their work.
The wonderful fragrance of the vegan Shrimp Po Boys and Banana Pudding Poke Cake teased us from the carry-out bag as we drove to a local taproom to enjoy our meal with a beer. The food was as good – no, better – than we had remembered. To me, the po boys were reminiscent of banh mi (Vietnamese sandwiches that are a favorite of ours), on a perfect baguette with pickled vegetables.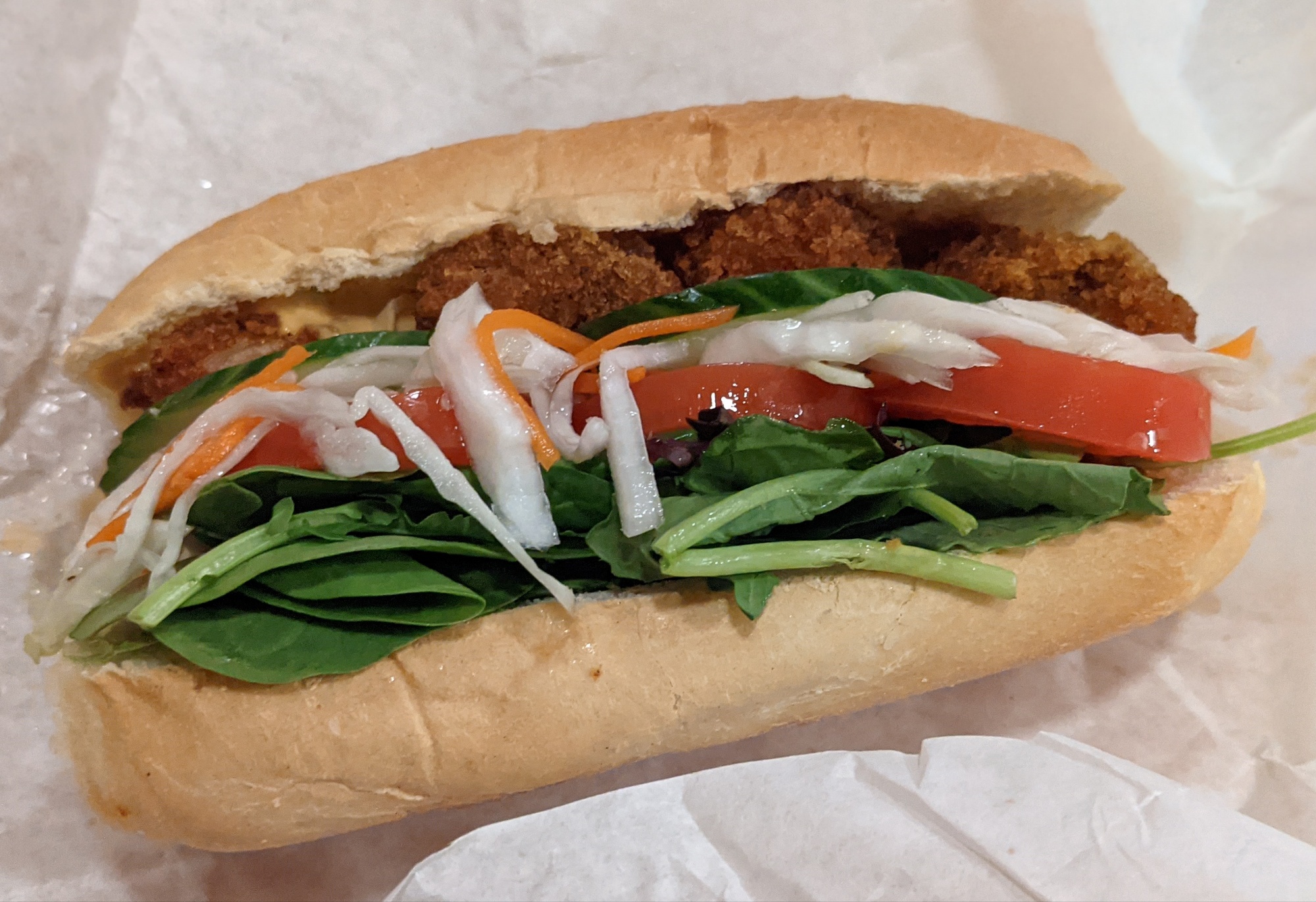 The "shrimp" is made of battered and fried konjac (the same tuber that shirataki noodles are made from) and Half-Peach's preparation is genius: it's delightfully chewy and the spicy remoulade is just the right complement. I'm not sure how well I chewed because I wolfed that sandwich right down. I may even have licked the wrapper – I'm not entirely sure.
The Banana Pudding Poke Cake was layers of sheer deliciousness, with vanilla cake, banana pudding, (vegan) whipped cream, and organic vanilla wafers. It showcased the delicate mélange of flavors without being too sweet (a big peeve of mine). While I'm not typically a "dessert" person, I tore into that cake like it was the last I'd eat. I could easily have eaten one of the large pieces by myself, but we split one, instead.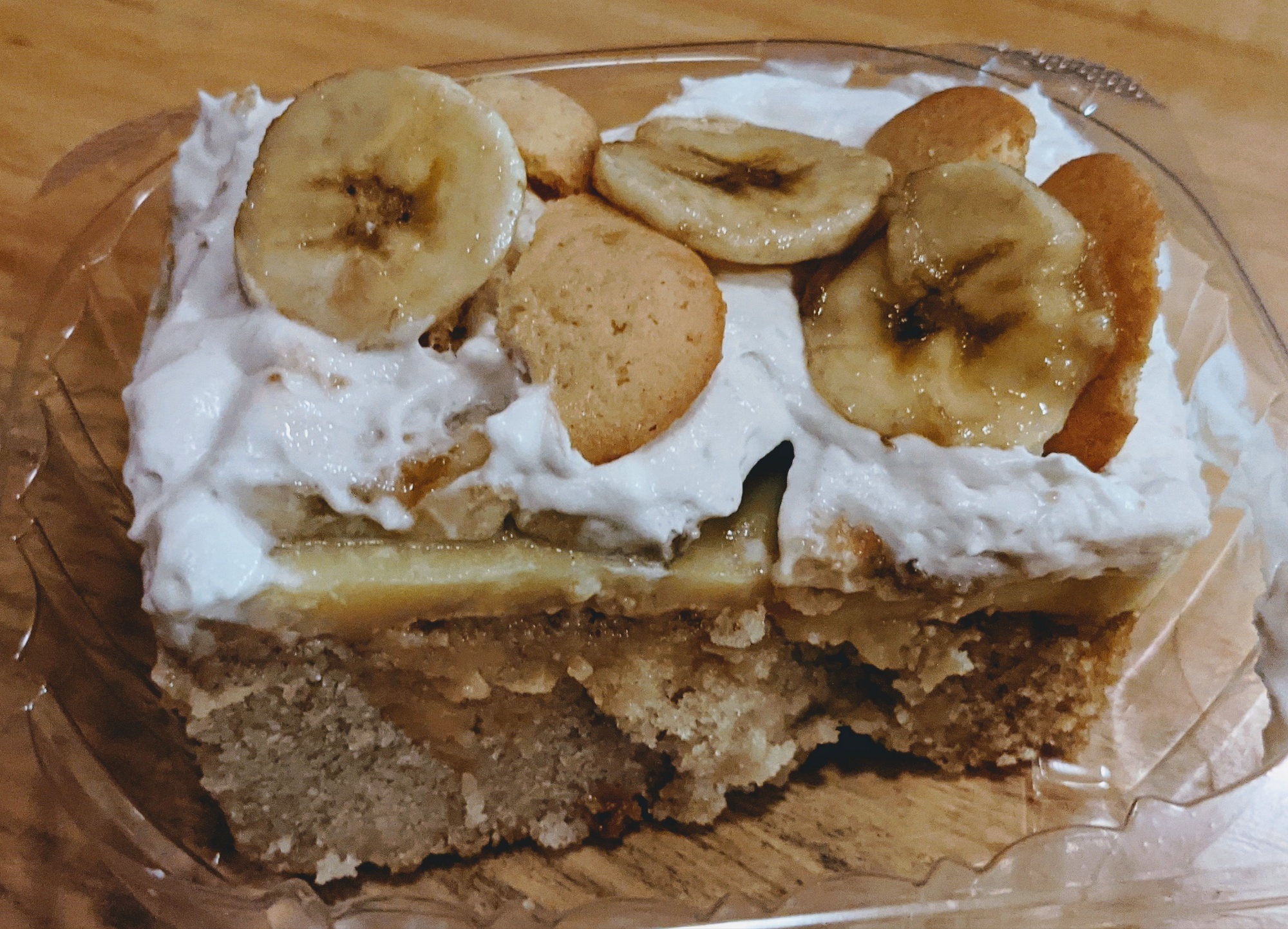 Half-Peach has oil-free, gluten-free, and other options to meet specific dietary needs. They are working from a limited menu because of the circumstances, and while it offers plenty of tasty options, I can't wait until the menu includes some of the other items, like their plant-based burgers, because they are great!
Thank you, Half-Peach, for ensuring that your vegan meals (like the vegan turkey combo boxes, beauties to behold), include protein and fat sources to help keep diners satisfied. Sidebar: having had to resort to eating just plain green salad at past work functions, I can personally tell you how much balanced vegetarian and vegan choices are appreciated – and it's not difficult to offer nut, legume, or grain protein-based options to meet that need. Hangry people aren't pleasant people.
And, without even knowing it, Half-Peach made my day: though I didn't mention it, it was my birthday and, in addition to the wonderful cake, I also enjoyed a free salted chocolate chip cookie (which I also highly recommend). The owner's kindness and engagement in her business is truly refreshing, and I wish her and her staff the very best of luck in their worthy endeavors. Keep making your delicious food – we'll spread the word, and we'll be back!